What is SEPA?
SEPA will standardize euro electronic payments across European countries. Together, there exist 34 countries in the SEPA location. These are generally the present 28 EU member states of the European Union, along with Iceland, Lichtenstein, Monaco, Norway, San Marino and Switzerland.
The 28 nations of the European Union are: Austria, Belgium, Bulgaria, Croatia, Cyprus, Czech Republic, Denmark, Estonia, Finland, France, Germany, Greece, Hungary, Ireland, Italy, Latvia, Lithuania, Luxembourg, Malta, Netherlands, Poland, Portugal, Romania, Slovenia, Slovakia, Spain, Sweden and the United Kingdom.
Map of Europe – Countries encompassed in the SEPA Initiative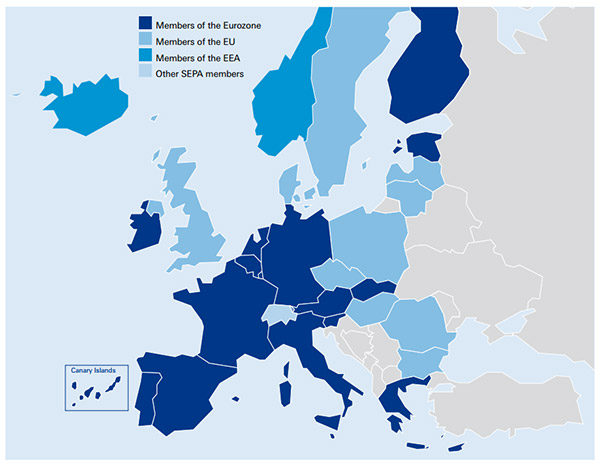 SEPA came into full effect on 1st February 2014, transforming the way euro electronic payments are processed across Europe. It imply that you possibly can make and receive payments seamlessly, collect a direct debit on any specific euro bank account or even make a credit transfer to any specific euro bank account within SEPA.
What are the basic improvements that SEPA brings?
- From 1st February 2014, existing national payment schemes were shut down; following which euro electronic payments will be processed via new SEPA schemes.
- National sort codes and bank account numbers will be changed by an International Bank Account Number (IBAN) and a Business Identifier Code (BIC).
SEPA Countries with ISO 3166-1 alpha-2 and currency codes*
| | | | |
| --- | --- | --- | --- |
| Åland Islands | FI | FI | EUR |
| Austria | AT | AT | EUR |
| Azores | PT | PT | EUR |
| Belgium | BE | BE | EUR |
| Bulgaria | BG | BG | BGN |
| Canary Islands | ES | ES | EUR |
| Croatia | HR | HR | HRK |
| Cyprus | CY | CY | EUR |
| Czech Republic | CZ | CZ | CZK |
| Denmark | DK | DK | DKK |
| Estonia | EE | EE | EUR |
| Finland | FI | FI | EUR |
| France | FR | FR | EUR |
| French Guiana | GF | FR | EUR |
| Germany | DE | DE | EUR |
| Gibraltar | GI | GI | GIP |
| Greece | GR | GR | EUR |
| Guadeloupe | GP | FR | EUR |
| Hungary | HU | HU | HUF |
| Iceland | IS | IS | ISK |
| Ireland | IE | IE | EUR |
| Italy | IT | IT | EUR |
| Latvia | LV | LV | EUR |
| Liechtenstein | LI | LI | CHF |
| Lithuania | LT | LT | LTL |
| Luxembourg | LU | LU | EUR |
| Madeira | PT | PT | EUR |
| Malta | MT | MT | EUR |
| Martinique | MQ | FR | EUR |
| Mayotte | YT | FR | EUR |
| Monaco | MC | MC | EUR |
| Netherlands | NL | NL | EUR |
| Norway | NO | NO | NOK |
| Poland | PL | PL | PLN |
| Portugal | PT | PT | EUR |
| Réunion | RE | FR | EUR |
| Romania | RO | RO | RON |
| Saint Barthélemy | BL | FR | EUR |
| Saint Martin | MF | FR | EUR |
| Saint Pierre and Miquelon | PM | FR | EUR |
| San Marino | SM | SM | EUR |
| Slovakia | SK | SK | EUR |
| Slovenia | SI | SI | EUR |
| Spain | ES | ES | EUR |
| Sweden | SE | SE | SEK |
| Switzerland | CH | CH | CHF |
| United Kingdom | GB | GB | GBP |
* Reference from
European Payments Council